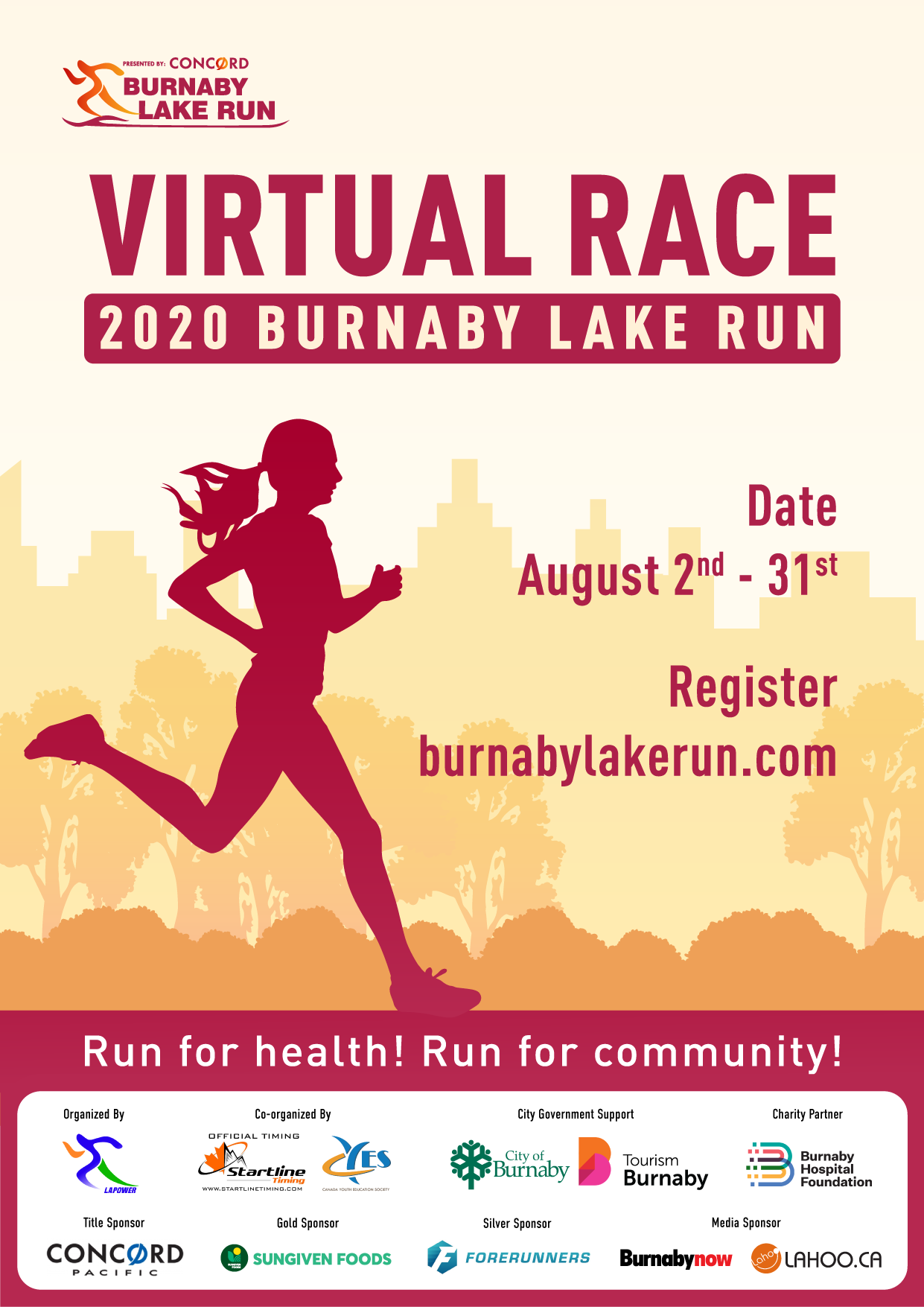 2020 Concord Burnaby Lake Run & Kids Run will be held virtually
Due to the current government guidelines on the COVD-19 pandemic, the 2020 Burnaby Lake Run will be held virtually. We recommend checking the official race website and social media channels to keep up to date with information about this year's event.
Race Information
Run for Health! Run for Community!
Burnaby Lake Run is an annual running event that aims to bring our community together, and give back to our local charity - the Burnaby Hospital Foundation!
This year, our third annual event, the Burnaby Lake Run will go for a Free Virtual Race. You can complete anywhere on Earth, anytime between Aug 2nd and Aug 31st, 2020. 
HERE IS HOW IT WORKS
Open EventBrite link

for registration. 

Register for the distance you wish to complete: 5K /10K /1.8K Kids Run​ (open to family and adults as well) before the 12AM EST of July 22nd.

Complete the distance anywhere on Earth, anytime between Aug 2nd and Aug 31st, 2020.

10Km/5KM participants will receive an email with authentication key from Startline Timing. Please follow the instructions and submit your time through the RESULTS page. Here is the latest leaderboard. For 1.8KM runners, please send email to info@burnabylakerun.com with name, date of running and time. We will send back with the certificate for each finisher.

Search your result and download the completion certificate.

All runners will be able to redeem a $10 value gift bag from Sungiven Foods stores by presenting their issued certificate.
All Runners also have an opportunity to win a draw prize of a pair of Brooks Running shoes offered by Forerunners.

Participants will also receive a 10% off for next year's event.
Bring your friends and family; let's get together! The virtual run is free, but we appreciate any donations, which will contribute to the Burnaby Hospital Foundation to improve our community health infrastructure. Each dollar matters. Your generous support will make a great impact on our hospital and society.
Social Media
We want to see your whole experience! Please tag #burnabylakerun, #lapower_running, #concordsocial and #startlinetiming as much as you can so we can share your race day photos on Instagram and Facebook.
2020年协平世博本拿比湖环湖虚拟赛正在紧锣密鼓的筹备中
乐跑俱乐部作为活动的主办方,这次依旧秉承着全民健身,快乐奔跑的宗旨,与本拿比市政府,以及本拿比旅游局一起,携手向广大民众推广积极向上的健康生活理念,宣扬坚韧不拔的精神状态,引领大家在这个不一样的时期,保持乐观心态,努力拼搏,携手共进,共渡难关,一起迎来更加美好的和谐未来!