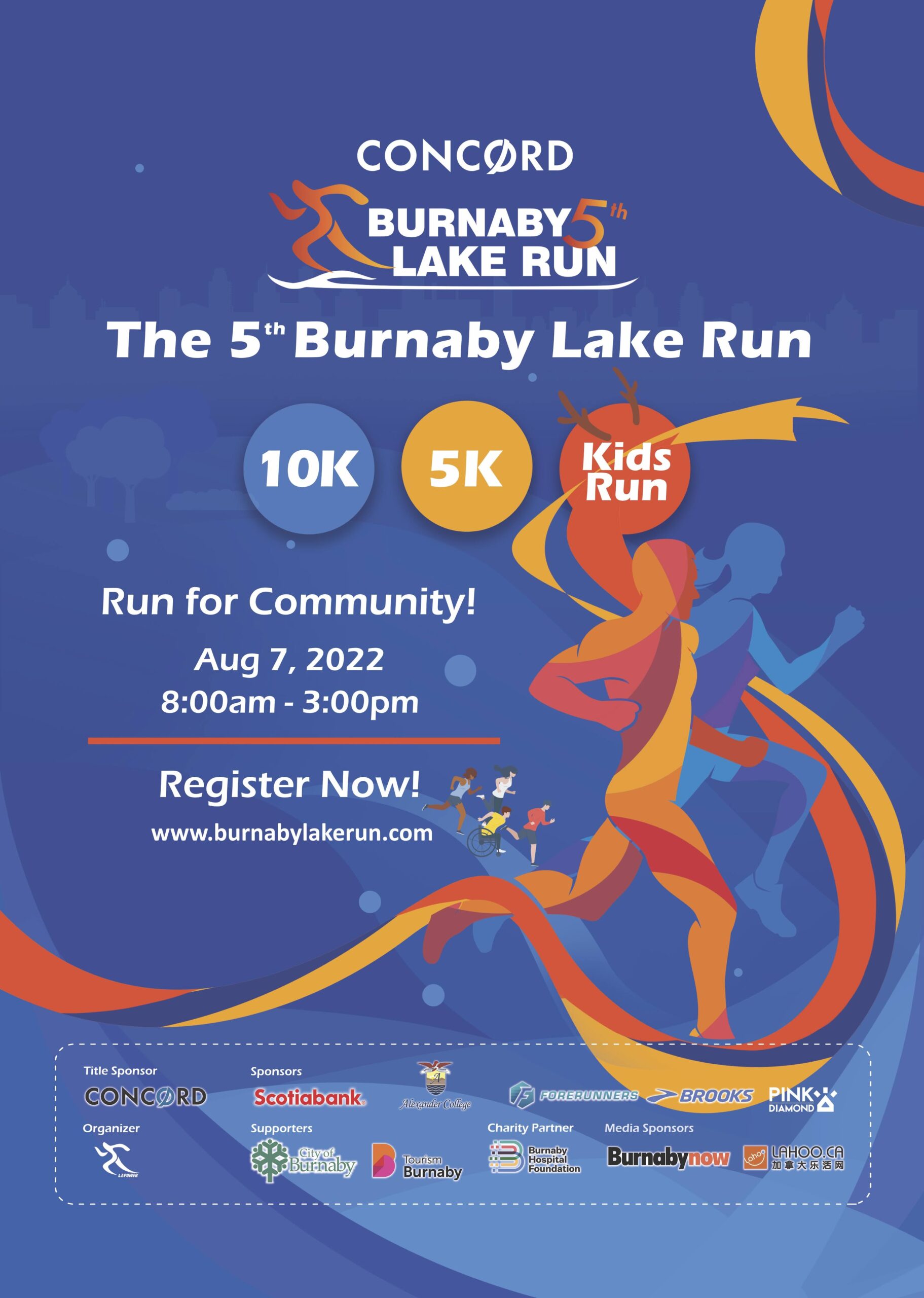 The 5th Burnaby Lake Run organized by LaPower Running Club and sponsored by Concord Pacific.
Join the Burnaby Lake Run for our 5th anniversary celebration at Burnaby Lake Regional Park and run for our community on August 7th, 2022!
Race Information
Run for Health! Run for Community!
Burnaby Lake Run is an annual running carnival that dedicates to introduce happiness and health and bring our community together, meanwhile to support our local charity for goodwill. This year, we are continuously running for health and supporting Burnaby Hospital Foundation to improve our community health infrastructure! Every ticket counts!
Our celebration this year features 10K and 5K individual races and 1.8K Kids Run for families and friends. See Event Details for more information.
10K race will start around 9:00AM and 5K race will start around 9:10AM. Timing System, T-Shirts, Finish Medals and Winner Awards will be provided. Runners also have chance to win a 4K Apple TV and more.
1.8K Kids Run will start around 11AM, followed by Family Festival with food and games. T-Shirts, Finish Medals and LaMoose the mascot will be provided. Registered kids will enter lucky draw to win gift bags. Parents are welcome to run with kids (no registration is required; and family T-shirts are available for purchase).
Invite your friends and family for joy and fun! See you at Burnaby Lake Regional Lake for our 5th Anniversary celebration on Aug 7th!
Registration
Open EventBrite link

for registration. 

Register for the distance you wish to complete before August 1st, 2022.

Participants may purchase additional family T-shirts and/or donate funds to Burnaby Hospital Foundation

Please contact info@burnabylakerun.com for group discount info (10 people or more).
* Registration is not refundable, nor transferable.
Volunteers
We thank all those who have given their time to this great event. It would not be possible without them! Please sign up here.
Social Media
We want to see your whole experience! Please tag #burnabylakerun, #lapower_running, #concordsocial and #startlinetiming as much as you can so we can share your race day photos on Instagram and Facebook.
乐跑俱乐部作为活动的主办方,这次依旧秉承着全民健身,快乐奔跑的宗旨,与本拿比市政府,以及本拿比旅游局一起,携手向广大民众推广积极向上的健康生活理念,宣扬坚韧不拔的精神状态,引领大家在这个不一样的时期,保持乐观心态,努力拼搏,携手共进,共渡难关,一起迎来更加美好的和谐未来!